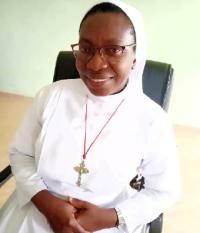 Welcome to EHJMC Benin City
You are highly welcome to EUCHARISTIC HEART OF JESUS MODEL COLLEGE, OBARETIN, located in Benin City, Edo State. It is a school where holistic education, (Academics and Morals) is impacted on students, the hope of our beloved nation Nigeria. The college has evolved but continues to grow and develop in academic and moral excellence as well as in infrastructure.
It is very imperative to note that the formation of a child is the responsibility of both the parents and the school. Therefore, I will not cease in imploring our esteemed parents to continue to play there role and speak the same language [of academic and moral excellence] as the school, to avoid contradictions in their formation. Here, and enphantically, our students are taught our core values, specially to be students of worthy character in and outside the school. We are forming students who can stand shoulder high above their peers or equals. Most importantly, their spiritual lives are also enhanced in their practice of daily prayers and devotion. The environment is learning friendly and, our state-of-the-art facilities are such that make learning easy and enjoyable. We continue to improve on our facilities and apprach to teaching and learning in order to keep up with global best practices. Hence, people say we are the school to reckon with.
Students are expected and encouraged to work hard and be at their best level of performance at all times, making them to display academic excellence and edge over their counterparts. This is why they say we raise top notch students, that can compete favourably and above their peers around the world, and this, we take pride in.
Suffice to state unequivocally, that Catholic schools are known for discipline. Therefore, discipline in words and actions is not discounted here, and it is expected from our students, staff and parents/guardians to sustain an edifying, educative and illuminating environment that promotes peaceful relationship amongst all.
Once again, you are highly welcome. We wish you God's abundant blessings.
Rev. Sr. Stella Maris Idibie (EHJ)
(EHJMC Benin City Principal)
Our Vision
To foster young adults into competent leaders who will be sound in character, morals and academic standing.
Our Mission
To give qualitative and all round education to young boys and girls so as to develop a service of purpose and awareness of their roles as members of the society.
Our Phylosophy
Eucharistic Heart of Jesus Model College is under the patronage of the Eucharistic Heart of Jesus. We draw our inspiration from the Love that Jesus shared with us in His most Holy Eucharist.
Our Motto
For The Greater Glory of God
Our Core Values
Honesty
Hardwork
Love
Organization
Emotionak Resilience
Confidence
Mental Alertness
Innovation